SmartCash is a cryptocurrency that was created in mid-2017. Along with a focus on the widespread adoption and use of cryptocurrency in everyday life, SmartCash has already developed unique tools to make this process faster and truly change the world of payments.
In this article we will briefly review how you can spend your SMART, make your friends happy or get a fiat in your city in a few minutes!
1. Sending SMART by email / SMS / link
It's an easy-to-use tool that you can use to send SMART to anyone using just a phone number, email or link. The recipient can easily get the funds by entering a withdrawal address or creating it in a few seconds in a Web Wallet.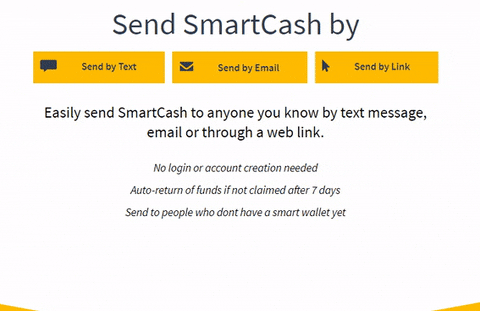 Link: https://smartext.me/
Use within a Web Wallet: https://wallet.smartcash.cc/send
2. Exchange SmartCash and get cash from the ATM
With the "ATM Voucher" function you can easily exchange your SmartCash and get cash at BitC and Bitugax ATMs. This is currently available in Portugal and Switzerland, but work is underway to add new countries.
The user needs to select the amount and country and then confirm the withdrawal request. You will see a card with a QR code, which you can scan using a crypto ATM by clicking "Redeem ticket". It's so simple!
Use within a Web Wallet: https://wallet.smartcash.cc/withdraw
3. Instant crypto payments via card

SmartCard is a blockchain-based solution for instant payments in real life. You can make purchases without internet connection or mobile phone. Merchants only needs an application (SmartPay POS to accept payments).
You can create your own card and print it at home or order a version with NFC. Instant confirmations, a reliable security system and no fees is all about SmartCard!
Create SmartCard: https://card.smartcash.cc/
Buy SmartCard: https://smartcashpay.com/
4. Crypto payments with NFC
SmartBand is a bracelet with NFC chip, which allows you to pay for your purchases with SmartCash in Brazil. Currently, payment is available at 2.5 million locations throughout Brazil (85% of retailers). Payment works wherever Mastercard is accepted.
As promised, SmartBand is now international for Brazilians and for any foreigner that have a CPF number. @scashofficial @wearATAR @stratumcoinbr @KennethBosak @fl_invest #smartcash @crypt0snews #crypto #cryptocurrency #blockchain #Bitcoin #smartband pic.twitter.com/NS6UzdczM4

— SmartOutreach2 (@SmartOutreach2) December 1, 2018
SmartBand: https://www.atarpay.com/band
5. Solution for online business: Coinpayments / MyCryptoCheckout
If you are the owner of an online business, you can easily accept payments in SmartCash from consumers. With the simple setup and low fees of these payment gateways, you can feel the convenience of accepting crypto payments.
SmartCashPay and WikiLeaksShop – one of the many merchants where you can order stuff and pay with SmartCash using these services.
Coinpayments: https://www.coinpayments.net/
MyCryptoCheckout: https://mycryptocheckout.com/
6. Find.SmartCash.cc
Find a list of services, entrepreneurs, shops, online or offline – you can do it on Find.SmartCash.cc – SmartCash business directory. Find out where SmartCash is accepted for payment in your city!
Business directory: https://find.smartcash.cc/
7. Accept payments in SmartCash easily
SmartPay is an application for accepting payments in SmartCash. The SmartPay app is available for use anywhere in the world, all it requires is access to the internet. Register your business on business.smartcash.cc and start accepting payments in SmartCash!
An interesting fact – in Brazil, about 40 brand stores accept payment directly through SmartPay!
Download SmartPay: https://play.google.com/store/apps/details?id=cc.smartcash.pos